In the winter of 1991, we drove from California to Arizona and purchased ten Mexican steers for $450 each. On the way home we decided that we would rather raise roping cattle than buy them!! When we arrived in California we promptly traded the steers for ten little Texas Longhorn heifers. Most of the heifers were good to rope, but a few were rotten from the start. We just laughed. "That's alright, she will raise us a nice baby to rope!!" Wrong!! Whatever the mama did wrong, the baby did wrong! On the bright side, we discovered mamas that roped great had babies that did the same. A lesson well learned! If you want good roping cattle, you have to start with good roping cattle. This is the cornerstone of our breeding program today.
Our Bulls
It didn't take long to figure that if you want to raise good roping steers corriente cattle are your best long term investment. We bought our first purebred corriente bull, Double R 424, from Dusty Ray in the summer of 1995.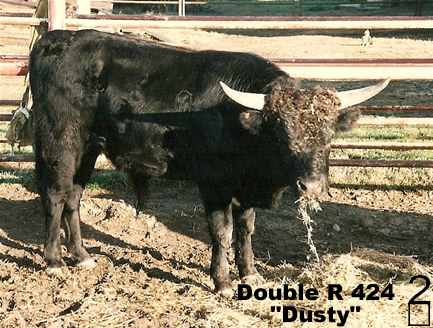 "Dusty" was a double bred Manzito P09. He was great to rope, had a good disposition, and horns any header would die for! Later we learned that he was a bit "beefy" by NACA standards. We liked Dusty anyway, and have never regretted our choice! We also used Rio WR 501, a bull that Jean's Dad Hollis Fuchs purchased. "Rio" had Manzito-P09, El Jefe, and Black Jack in his pedigree.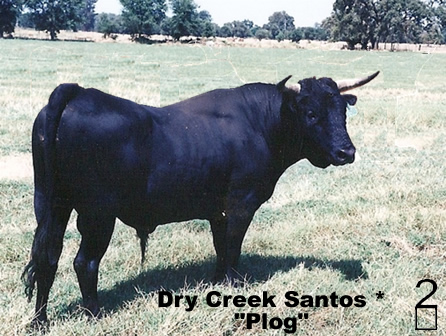 Our third bull, Dry Creek Santos*, was purchased from Bonnie and Larry Plog in the summer of 1996. "Plog" had a lot of Cates breeding and was long, lean, and shiny black.
After buying Plog, we pretty much raised our own bulls, registering one or two of the best each year. Each bull was roped for a year before being turned out with the cows. If he was not good enough to rope, he was not good enough to breed. We figured we were on the right track when our "homegrown" bulls started placing in NACA shows. Ready 2 Rope 142* placed in both the roping and the conformation at the 2003 National Show, winning 2nd in the all around bull class. Ready 2 Rope 113*, 603* and 133* were all successful in the show and roping ring, as well as the practice pen. Please see our awards section for their show records.
In the summer of 2005, Jean's Mom, Joanne, added a young Cates bull to the mix. Cates Bull 438 was great to rope and his first calf crop looks very promising.
To diversify our gene pool, in the summer of 2006 we purchased two bulls from Jimmy Garcia. Garcia Bull 439* and Garcia Bull 526* were first and second place roping bulls at the 2006 NACA Nationals. At the same show "439" was also the Grand Champion Roping Animal. We are still roping "526" and really hate to turn him out because he is so much fun! We expect these bulls to add even more to our breeding program.
Our Cows
As I mentioned, we started with longhorn cows, then bought ten purebred corrientes from the Ray Ranch. Together with Jean's parents, Hollis and Joanne Fuchs, we purchased commercial cows from several New Mexico ranches that had been raising corrientes for decades. These cows proved to be a roping genetics goldmine and many can still be found at Ready 2 Rope Ranch. The main focus of our program has always been raising good roping steers. Although we didn't get to rope all of our original cows, their calves have proven that they are good roping cattle producers.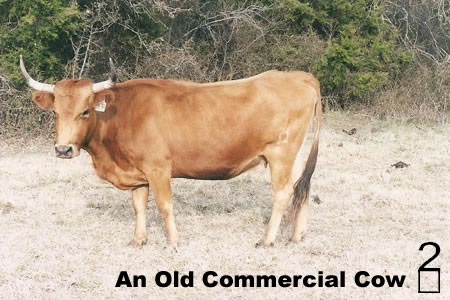 By breeding these cows to our own proven registered bulls we continued to see an improvement in both the conformation and the performance of our cattle. Initially, registering our heifers was not a major concern. When the NACA announced that after 2006 they would no longer register "A's" (heifers born to commercial cows bred to registered bulls) we started registering all of our replacement heifers.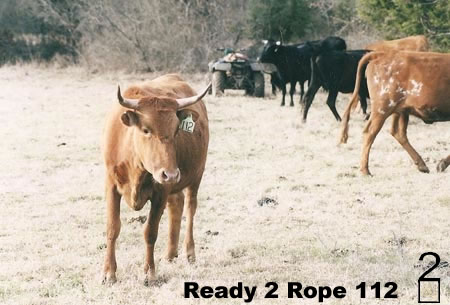 Many would be fullbloods by now had we begun registering sooner. Instead we have a lot of first quality A's.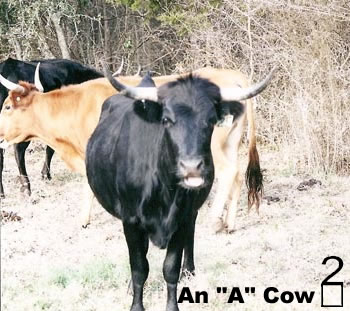 Our main goal is to raise good roping steers. Our registered cattle allow us to enter NACA shows, which are a lot of fun! Both our registered herd and commercial cows are raising quality roping cattle!
Each heifer added to our herd has been roped at least three or four months, some for a whole season. As I have said before, if she isn't good to rope, we don't keep her!